Natyre
AEDAS Homes has named this development located in Marratxi "Natyre" after the natural setting surrounding the Coanegra watercourse beside which it stands. This way, your new home will always be associated with green spaces and fresh air. You can now enjoy your home and the pleasures afforded by a natural setting without relinquishing the comforts and conveniences of city-living. Your dreams have brought you this far.
Now take it to the next level.
Discover Natyre
One of AEDAS Homes' fundamental premises is to look after its customers, therefore we aim to make your everyday life easier. Your new community is projected to include comprehensive communal areas where you can shake off your stress and get away from it all.
Your community at Natyre comes with a pool for adults and children, a kiddies' playground, a community hall for holding parties and events with your friends and family and a fully equipped gymnasium to help you keep fit without having to leave home. Take a relaxing stroll through your landscaped community gardens and enjoy the essence of the Mediterranean air in the different outdoor spaces your new home has to offer.
EXCELLENCE, INTEGRITY, RESILIENCE, CREATIVITY, PASSION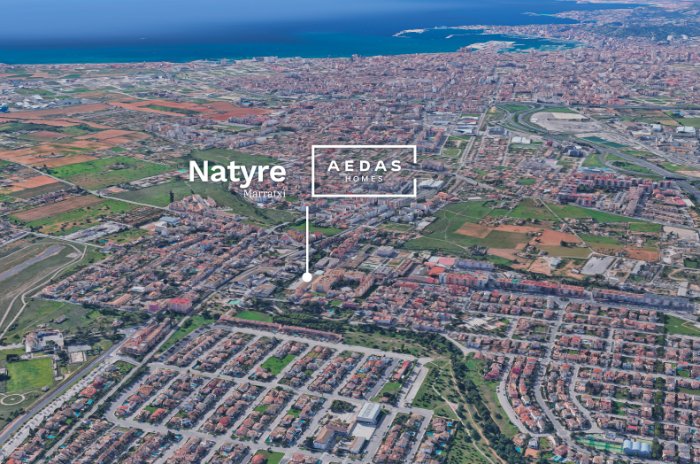 Perfect communications
Location, communications and services; these are the key aspects for your home to be well situated. Natyre has all three. Your new home stands in a very well communicated setting with all the usual services within easy reach. From your new home, you can quickly be at shopping malls, schools, sports centres and supermarkets, and commuting to Palma will be quick and comfortable along the Ma-13 access road. If you prefer to leave your car in your parking bay, the Pont d'Inca railway station is in your neighbourhood serving lines T1, T2 and T3, and you can also use the 3 and 341 inner city bus services which connect you with Palma city centre as well as other destinations.
Airport
Palma de Mallorca