New Folies
New Folies is an exclusive, new construction development in Majorca.
A magnificent housing complex, all with private swimming pools, terraces and impressive sea views, in a privileged spot in Mallorca.
Discover New Folies
Equipment
EXCELLENCE, INTEGRITY, RESILIENCE, CREATIVITY, PASSION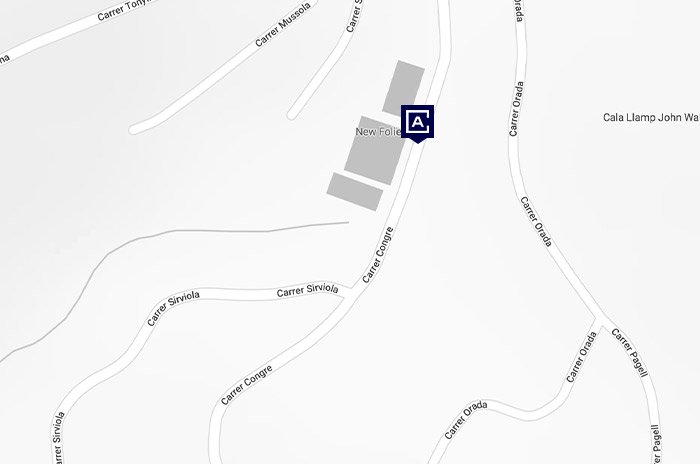 The best spot in Port d'Andratx
New Folies is a new construction development offering you magnificent houses for sale in Palma de Mallorca, on the fabulous Cala Llamp, located in Port d'Andratx. A unique coastline landscape that has today become one of the most beautiful and distinguished residential districts in Mallorca.
One of the most privileged terraces on the Mediterranean
New Folies is located on Cala Llamp, one of Mallorca's last true gems, a cove with easy access and crystal clear waters, barely 2 km from Port d'Andratx, the last corner on the southeast coast of Mallorca that still conserves the island's authentic, original character.
Beach Club and Social Club
New Folies residents enjoy VIP treatment at the Gran Folies Beach Club facilities, one of the most private and discrete water's edge ambiences in Majorca, which from its privileged located in the heart of the bay, offers spectacular panoramic views.
Furthermore, New Folies also offers its own exclusive social club, where homeowners will be able to enjoy a coffee shop, fitness area with a heated pool, spa (saunas, Turkish baths, Jacuzzi, etc.) and a gymnasium, amongst other services.
An ideal place to start a new life.
Architecture and design for a luxury home
Each New Folies home is spacious, architecturally minimalist in style and offers incredible sea views, and it has been built following a design where no attention to detail has been spared.
Spacious, light-filled rooms, with large windows looking out over the sea and over the impressive terraces with their private swimming pool.
Mediterranean paradise
Mallorca is one of the most highly-desired places to live in the world. Enchanting maritime and mountainous landscapes and unrivalled beaches; more than 300 days of sun per year, great connections and infrastructure, making it easily accessible from anywhere in Europe; an array of leisure and shopping activities (as a family, couple or with friends), great food with some of the most pioneering restaurants in the country; sailing clubs, from fishing harbours to new state of the art facilities; 24 first-rate golf courses and a calm lifestyle in complete security... these are some of the qualities that make Mallorca the paradise it is and the perfect place to start a new life.