Fineo
Fineo is the new construction development AEDAS Homes is offering in San Sebastian de los Reyes.
Sustainable 3- and 4-bedroom homes with a swimming pool, gymnasium and landscaped garden areas.
Equipment
Residents' Community Hall
EXCELLENCE, INTEGRITY, RESILIENCE, CREATIVITY, PASSION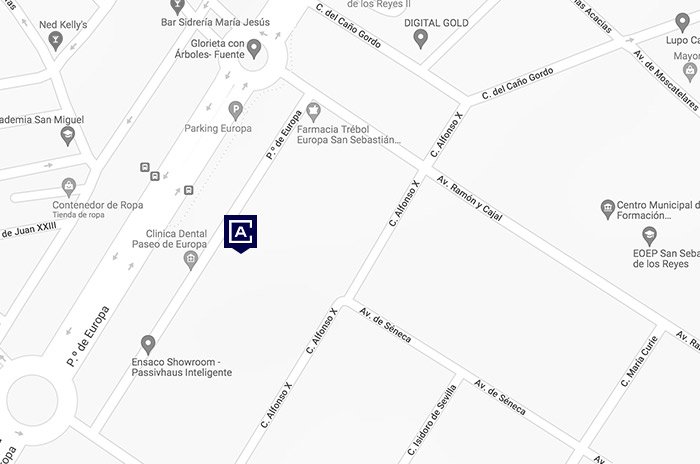 Close to everything for your comfort
Your new home is a step away from everything you need. From shopping malls like Plaza Norte 2 to hospitals like the Infanta Sofia, not forgetting municipal sports centres, schools and supermarkets.
Both by private vehicle or public transport
Your home in San Sebastian de los Reyes has numerous bus stops, a Metro station and a commuter rail line in close proximity. If you prefer to travel by private vehicle, you will soon be at exit 17 of the A1.
TRANSPORT
Inner- and intercity buses
L2, L10, L11, L171, 151, 153, 154, 158, 193, 194, 195, 196, 197, 199, 827, 828
For families of the 21st century
The building, signed by the acclaimed Morph Estudio architects seal, is perfect for 21st century families. With an exterior structure featuring clean, avant-garde lines, inside you will enjoy the most modern sustainable systems.
AEDAS Fineo flats have an outdoor pool and community gardens to enjoy the open air. Furthermore, in your new home you will have a 10-m² terrace which will become one of your favourite spaces.
Look after the planet from your new home
Together with the double glazing and radiant, underfloor heating that your new flat in San Sebastián de los Reyes provides, Fineo uses a geothermal mechanism that takes energy from the subsoil to capitalise on the earth's heat stability at a certain depth.
All these improvements in efficiency contribute to lowering CO2 emissions to the outside. Your new home will have the prestigious BREEAM energy efficiency seal.
Advance works in Fineo
The works at Fineo advance at a very good rhythm.
We leave you with an video overview of the works.
We already have less so you can enjoy your new home!