Idilia Senses
Idilia Senses is an exclusive development with terraces and sea views enabling you to wake up to views of the Mediterranean horizon. A total of 41 south- and southeastfacing dwellings including 1-, 2- and 3-bedroom units. The project also comprises garage parking and boxroom storage for your utmost convenience.

As regards the community facilities, your new home comes with landscaped gardens and a comfortable swimming pool where you can have a relaxing swim and shake off your stress. Take in the panoramic view over the sea from your new home and give your senses a free rein amid the surrounding. Indoors and out merge in your home, while retaining themprivacy and exclusivity that you so crave.
214.500 VAT (10% included)
EXCELLENCE, INTEGRITY, RESILIENCE, CREATIVITY, PASSION
Choose the house you want
(*) IVA no incluido. Precios con garaje y trastero incluido.

2 bedrooms
105,9 m2
580.000 €

2 bedrooms
126,61 m2
421.000 €

2 bedrooms
133,38 m2
401.000 €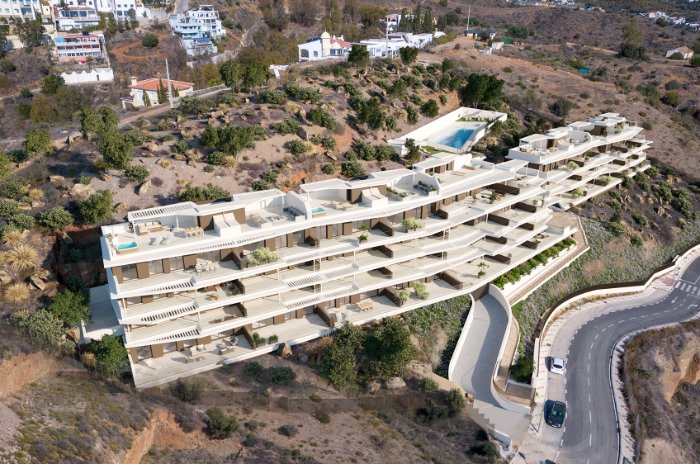 A unique enclave facing the Mediterranean
Idilia Senses offers an exceptional location with direct access to road links with Malaga city and its AVE high-speed railway station, Malaga airport and other services. A place perfectly connected with key points in Spain and options for easy and convenient travel to foreign destinations.
Bus
M-166/M-160/M-260/M-261/M-362/M-363
Trains
María Zambrano railway station
Airport
International airport Pablo Ruiz Picasso
Así avanzan las obras en Idilia Senses
Las obras de Idilia Senses avanzan a muy buen ritmo.
Os dejamos con un resumen actualizado de las obras.
¡Ya queda menos para que puedas disfrutar de tu nueva casa!