Carena
Carena offers you a private urbanisation made up of 52 two and three-bedroom homes with terraces designed for you, with a communal swimming pool and gardens both in the communal areas and in the ground floor apartments.
Your new home also has a parking space and storage room to store your surfboards and everything else you don't use on a daily basis. For your maximum convenience, the development has smart mailboxes where you can pick up your online orders when it suits you best.
The urbanisation has carefully designed pedestrian accesses built into its architecture and, for you to experience total security, Carena will also install a video camera system in the access area from the street.
This versatility makes Carena the perfect development option for everyone, whether you are looking for a holiday home, an investment option or a permanent residence.
EXCELLENCE, INTEGRITY, RESILIENCE, CREATIVITY, PASSION
Choose the house you want

2 bedrooms
76,20 m2
294.000 €

2 bedrooms
78,40 m2
308.000 €

3 bedrooms
96,95 m2
315.000 €

3 bedrooms
97,45 m2
368.000 €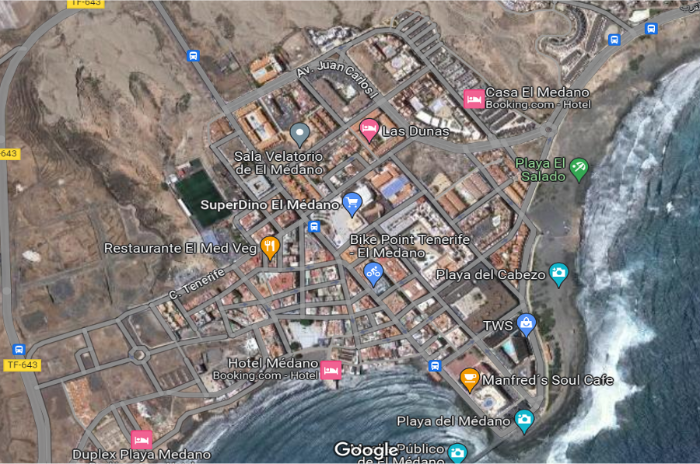 Your new life in Tenerife
Feel the gentle sea breeze caressing your face as you watch the majestic spectacle of the sun peeping over the horizon and tinging the sky with golden colours.
Stroll through picturesque streets breathing in the fresh air and listening to the gentle murmur of the waves while enjoying the exquisite local cuisine with its variety of flavours and fresh produce.
Dive into the waters of the Atlantic Ocean while the sun caresses your skin. Having your home in El Médano means enjoying everyday life in a unique setting.
The exceptional location of El Médano allows easy access to other destinations and points of interest in Tenerife. In just 10 minutes you can reach Tenerife South airport and other locations on the island, providing opportunities to explore and enjoy all that this area has to offer.
Taking the TF-1 motorway heading north will bring you to the most important cities on the island: Santa Cruz de Tenerife, Tenerife capital and La Laguna, a UNESCO World Heritage City.
If you want to disconnect in the south of Tenerife and enjoy wonderful coastlines like those in Los Cristianos and Playa de las Américas, taking the TF-1 motorway is an easy way to get you there in just 20 minutes. These areas are known for their beautiful beaches, lively nightlife and wide range of leisure and entertainment options.
TRANSPORT
Airport
Por Airport Tenerife Sur