Bremond Son Moix
In Bremond Son Moix is the new construction flat you were looking for in Palma de Mallorca.
Elegant buildings with a swimming pool in one of the best districts in Palma.
Discover Bremond Son Moix
EXCELLENCE, INTEGRITY, RESILIENCE, CREATIVITY, PASSION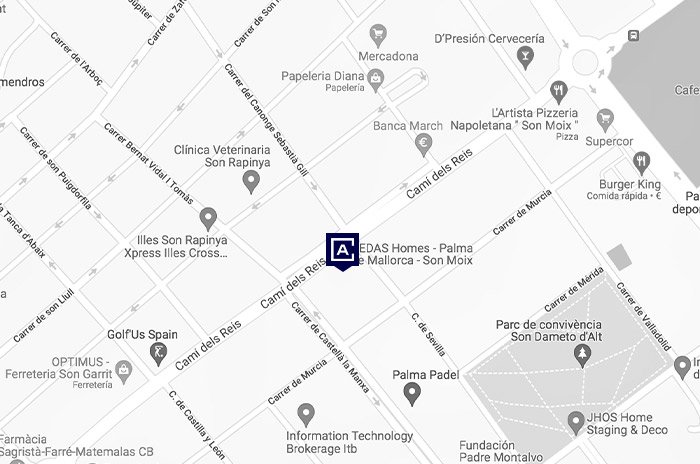 A location that has everything
Bremond Son Moix is a new construction development that is offering flats for sale in Palma de Mallorca. With its privileged location, it is ideal for those seeking to live just 10 minutes from the centre without renouncing the tranquillity and comforts of a residential area.
Everything within striking distance… including the sea
Bremond offers easy access to shopping malls, sports and health centres, schools and supermarkets. If what you like is the sea, Palma marina and a wide variety of leisure offerings are just 10 minutes away.
Bremond has swift, easy links with the Ma-20 and the Ma-1041, whereby it is very simple getting anywhere in the city using these major roadways.
Great luxuries at your fingertips
Bremond offers you a community swimming pool to enjoy as a family and spacious landscaped gardens.
Likewise, all the homes have a garage and boxroom, to assure your utmost comfort.
Your dream home in a unique setting.
Cosy, quality spaces
Light-filled rooms and roomy terraces to enjoy all year round, taking advantage of the attractive Mediterranean light that inundates Palma de Mallorca.
Homes with unbeatable finishes and materials, combining avant-garde trends with the elegance of straight-line designs.
Spacious terraces facing the intimacy
The strengths of Mallorca include, undoubtedly beautiful light Mediterranean that floods the island. To enjoy it, AEDAS Bremond buildings were designed with smooth, linear and elegant volumes that alternates the terraces to ensure maximum privacy of these spaces.
Owners of the lower floors have large custodial areas on both sides of each House, and the penthouses will have Sun terrace where you can sunbathe or hold meetings with friends.