New developments in Fuengirola
At AEDAS Homes, we invite you to get to know our new developments in Fuengirola. It stands out for its sea views, quality of life in the streets, recommended destination if you want to enjoy a warm climate this summer, and dive into fabulous beaches while experiencing countless outdoor activities.
Fuengirola es un destino recomendado para todo aquel que desea disfrutar de un clima cálido en verano para poder zambullirse en sus frescas playas y experimentar innumerables actividades al aire libre.
Otra buena noticia para quienes huyen de los fríos meses del año es que en Fuengirola las temperaturas invernales son más suaves que en otras zonas del país y la sensación térmica no suele caer por debajo de los 9 °C.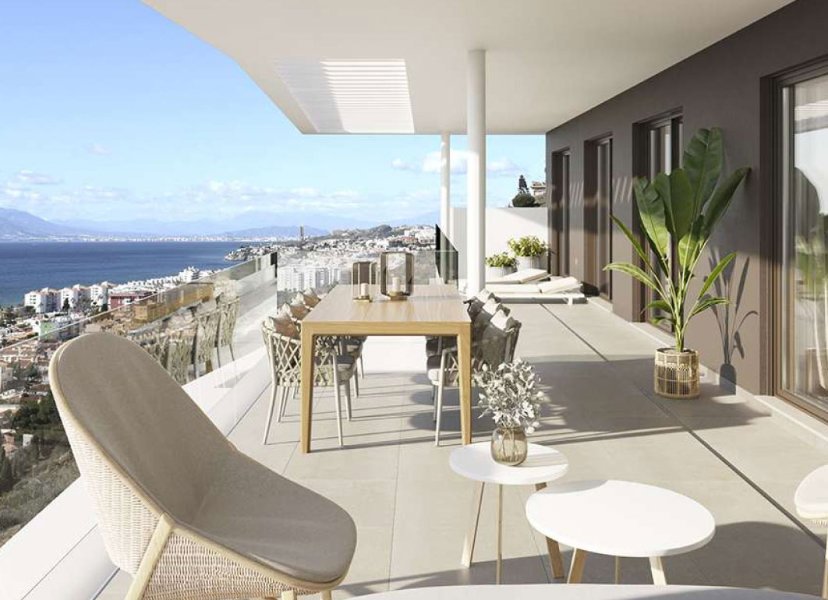 Your dreams live in Fuengirola
If you have always dreamed of fantastic sea views, this new home in Middle Views will be the perfect fit for your morning contemplations. Sitting on an ample terrace with Mediterranean views is just one more thing that makes Middel Views so great. Plus, Malaga city and all its amenities are easy to get to by car or public transport, such as the international airport of Malaga and the suburban train stop, "Carvajal".
A Charming Fuengirola
The hospitality of Fuengirola is unmatched. Not only do they welcome you with open arms, but the city's cuisine has a distinct Malaga style that you cant find in many other Spanish towns and countries. But what makes this place especially special are its signature dishes like 'tortas de Fuengirola.' It would have been difficult to leave such a fantastic place.
Thanks to hundreds of people from other countries who have made a life here and choose the city to retire or work remotely in winter, there is a vibrant international community.

What AEDAS Homes offers in Fuengirola, Malaga
In our extensive catalog of real estate options, you can find the best new properties in Fuengirola. We are sure to have something perfect for your needs. Our homes are sustainable, with diverse interior spaces and common areas that will not leave anyone out. It is located at some of the most exclusive locations in the city, so it's never too crowded or noisy here either.
Enjoy your future house
At AEDAS Homes, we have new build developments for sale in Fuengirola. We have created the most modern and best quality properties for you in the best locations, such as Middel Views, where we know you will enjoy a unique experience in the Costa del Sol. So take the first step to start your new life in Fuengirola.