Sold
Forneri is the promotion of new development that AEDAS Homes offers in Cambrils.
Homes of 1, 2, 3 and 4 bedrooms with terrace and swimming pool. The development is located at only 3 minutes from downtown.
Discover Forneri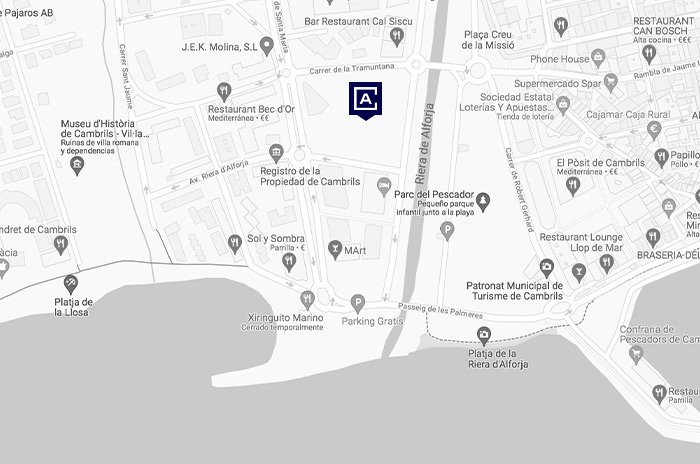 Your new house with pool, 200 meters from the beach
To spend a fun afternoon with family or friends, Forneri has a swimming pool that will delight young and old. Take a refreshing dip when you get home and forget about stress and routine.
If you prefer to swim in the open sea, the spectacular beach of Cambrils is just 200 meters from your new home. It will only take 3 minutes on foot to reach the Mediterranean coast. In addition, the urbanization also has a playground for children and a garden space to enjoy with the ones you love most.
Forneri combines the tranquility of living in the Horta area of ​​Santa María with the comfort of being just 5 minutes from the center of Cambrils. The promotion, located in front of the spectacular Parc del Pescador, offers fast connections with the N-340, the T-312 and the T-325. If you prefer to leave the car at home, just 700 meters from your new home you will find the train station of Cambrils.
In the surroundings of Forneri there is also a perfect bike path to get in shape by pedaling as a family.
TRANSPORT
TRANSPORT
Train
Cambril's Train Station
EXCELLENCE, INTEGRITY, RESILIENCE, CREATIVITY, PASSION
Choose the house you want
(*) these prices do not include VAT, garage or storage room

1 bedroom
1 bathroom
72,32 m2
209.000 €

3 bedrooms
2 bathrooms
110,55 m2
342.000 €

4 bedrooms
2 bathrooms
164,65 m2
371.000 €

4 bedrooms
2 bathrooms
137,59 m2
377.000 €
Advance works in Forneri
The works at Forneri advance at a very good rhythm.
We leave you with an video overview of the works.
We already have less so you can enjoy your new home!
This is the Forneri show apartment
Aprovecha tu casa durante todo el día
La disposición arquitectónica de Forneri permite disfrutar de la luz del día en tu amplia terraza. Por la noche, el confort térmico será total gracias a la pensada ubicación de las estancias de tu nueva casa.
Para que aproveches el espacio al máximo, tu cocina se abre al salón y a la terraza permitiendo la entrada de luz natural a todos los espacios. Los bloques de esta urbanización exterior no superan las cinco plantas –cuatro, en algunas fachadas–, lo que favorece la luminosidad de las estancias.
Garaje y trastero propio
Porque sabemos cuánto te gusta llegar a casa y poder disfrutar de ella, AEDAS Homes ha trabajado para que no pierdas tiempo dando vueltas por el barrio buscando sitio. Todas las viviendas de la promoción incluyen una plaza de garaje propia para que la comodidad sea máxima.
Si prefieres moverte en bicicleta, tu vivienda dispone de trastero privado para que puedas guardarla sin perder espacio útil en casa.