Escalonia II
AEDAS Homes offers you a 150-home community (2-, 3- and 4-bedroom dwellings, complete with garage and boxroom) to satisfy all your needs in the Madrid town of Las Rozas. Quiet and wellbeing, 14 minutes from the city of Madrid.
Enjoy your adults' and children's swimming pool, padel tennis court, gymnasium, co-working hall and playground for the little ones in the family. All with impressive views of the Monte del El Pardo woodlands.
Discover Escalonia II
Equipment
Residents' Community Hall
EXCELLENCE, INTEGRITY, RESILIENCE, CREATIVITY, PASSION
Choose the house you want
VAT not included. Garage and storage not included.

3 bedrooms
2 bathrooms
118 m2
400.000 €

4 bedrooms
2 bathrooms
135 m2
502.000 €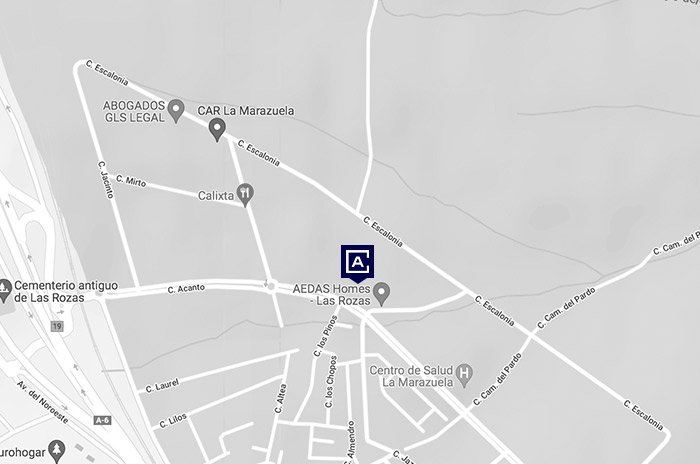 Tranquility and welfare 14 minutes from Madrid
Escalonia is a new construction development offering exclusive flats for sale in Las Rozas, an area with excellent communications with the major roadways in the northeast of Madrid.
The home you want, just 20 minutes from Madrid
In a quiet, distinguished location, surrounded by greenfield areas and all the necessary services, Escalonia is just a 20-minute drive from Madrid.
TRANSPORT
Commuter rail lines
C-7, C-10
So live in La Marazuela
If you live in Escalonia II, you have one more reason to be conteno. In addition to having a sustainable House, built with first quality and with stunning views of the Parque Nacional Sierra de Guadarrama, you will enjoy a neighbourhood in full expansion with all services at your fingertips.
The neighborhood has a green space of more than 8,200 m² located between streets Tulip, acanthus and shallots. Have fun playing on artificial turf soccer fields, challenging your friends in ping-pong tables or skating on the track that is next to your House.
In addition, in La Marazuela you'll find schools, kindergartens, health centers... Everything you need is at your fingertips.
Advance works in Escalonia II
The works at Escalonia II advance at a very good rhythm.
We leave you with an video overview of the works.
We already have less so you can enjoy your new home!