Arana
Discover Arana, a closed urbanization with 107 houses with terraces of 2, 3 and 4 bedrooms, ground floor with garden and duplex penthouses with large landscaped common areas with swimming pool, paddle tennis court, community room, gym and children's area.
Discover Arana
EXCELLENCE, INTEGRITY, RESILIENCE, CREATIVITY, PASSION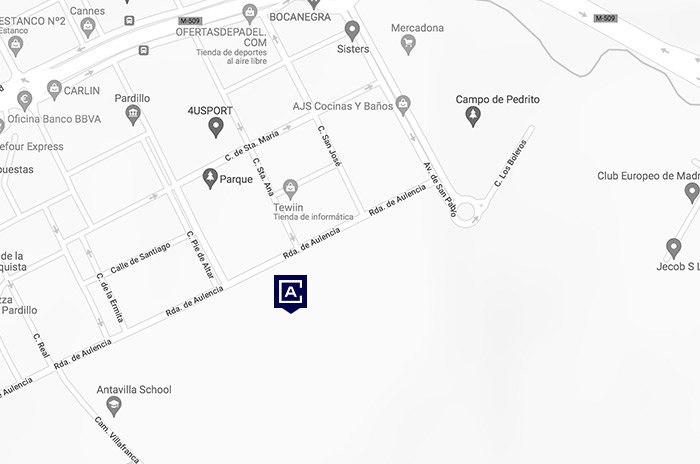 Tranquility and well-being
Villanueva del Pardillo is a municipality that combines all the comforts, surrounded by nature, with enviable views, which also has excellent communications thanks to fast road connections and multiple bus lines.
In a quiet and distinguished place, surrounded by green spaces and with all services, Arana connects with the Moncloa interchange in just 20 minutes by car.
Bus lines - 642, 643, 645, 627 - connect to the Intercambiador Moncloa, as well as with the nearby municipalities.
In addition, you will find connections to the Majadahonda and Las Rozas railway stations thanks to the 626 and 626A lines.
By road, the M-509 has a quick connection to the M-50 and the M-503, allowing you to join both in less than 5 minutes. The nearby municipalities, the shopping centers of the M-50 and the Puerta del Hierro Hospital, will be a moment away from home.
TRANSPORT
Inner- and intercity buses
642, 643 645 y 627
Roads
M-509, M-50 y M-503
Elegance, avant-garde and practicality
"The most important thing in the health of a home is a good aeration, the presence of light and the closeness of nature."
ESTUDIO LAMELA
Combining cutting-edge trends and the enduring elegance of the most classic constructions, Arana's harmony is achieved by integrating the textures and colors that make up it. The design of your new house is signed by Estudio Lamela, the prestigious office of architects that has taken into account all the details so that both the exteriors and interiors of your future home make you proud of your home and its location.