Soul Marbella Sunrise
Discover Soul Marbella Sunrise, an exclusive selection of 20 semi-detached villas located in one of the best areas of Soul Marbella, with views of the sea and the golf course. Spacious 4 bedroom villas with terraces, private pool and garden and underground garage. Concierge and "Resort life" services are included for Sunrise residents.
EXCELLENCE, INTEGRITY, RESILIENCE, CREATIVITY, PASSION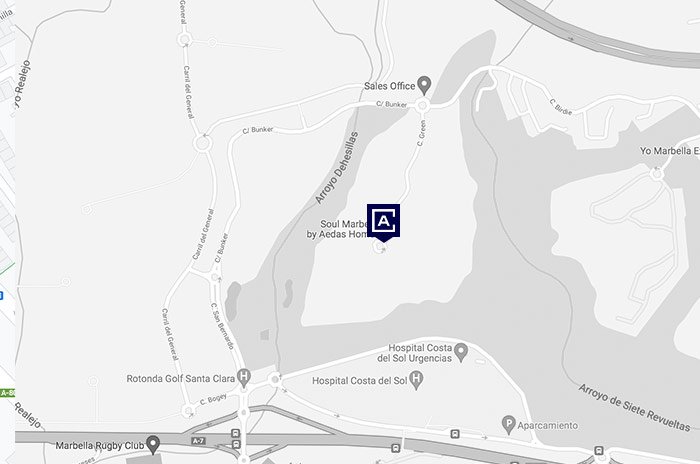 Located in Marbella East, Soul Marbella Sunrise is completely private and it's surrounded by the prestigious Santa Clara Golf course. A perfect mix between location and nature just 5 minutes from Marbella center. From its elevated position and close to the sea, Sunrise is an exclusive area that enjoys exceptional views over the golf course and the Mediterranean.
Marbella East is a true paradise yet to be discovered. The area is the ideal place for those who are looking for the authentic Mediterranean essence of the Costa del Sol without giving up the connections with the main surrounding cities. An excellent location to enjoy a relaxed and healthy lifestyle with the best beaches at your doorstep.
This complex surrounded by the Santa Clara Golf course is one of the most prestigious private urbanizations in Marbella. A private and exclusive urbanization that enjoys privileged views of the golf course and the Mediterranean.Fully connected to any part of the world thanks to its international airport and the high-speed train service (AVE), this city is the destination Favorite of those looking for a high quality life in Europe thanks to its climate, its vibrant cultural life and its wide range of leisure activities.
- Architecture and design as a differentiating product
"" Natural lighting is the essence of Soul Marbella that, in perfect harmony with a design of smooth lines and resounding volumes, its impressive landscaping and spectacular views of the golf course, favors the quality of life of its inhabitants and their connection with the natural "" confirm from González & Jacobson, one of the best architecture studios on the entire Costa del Sol
TRANSPORT
Roads
We are at exit 234 of the A-7 motorway from Malaga or Marbella
Airport
Malaga - Costa del Sol
Bus
AVANZA L-304, AVANZA L-305
Así en Soul Marbella Sunrise
"La iluminación natural es la esencia de Soul Marbella que, en perfecta armonía con un diseño de líneas suaves y volúmenes rotundos, su impresionante paisajismo y las espectaculares vistas al campo de Golf, favorece la calidad de vida de sus habitantes y su conexión con la naturales" confirman desde González & Jacobson, uno de los mejores estudios de arquitectura de toda la Costa del Sol