Panarea
Discover Panarea, promotion of new construction located in Illa Nova, Vilanova i la Geltrú composed of 61 homes of 2, 3 and 4 bedrooms in the Barri del Mar, a few minutes from the beach and the port. It has an adult and children's pool, parking for bicycles and a children's area.
Discover Panarea
Mediterranean air
Since all our interiors are taken care of in detail, the exterior of the house could not be less. Perfectly combining the avant-garde trends and elegance that characterizes AEDAS Homes projects, the Tegea promotion makes you feel proud of your home even before entering it. Regular geometries and light colors highlight the wide spaces of these homes.
EXCELLENCE, INTEGRITY, RESILIENCE, CREATIVITY, PASSION
Choose the house you want
VAT not included. Garage and storage not included.

2 bedrooms
2 bathrooms
69 m2
282.000 €

2 bedrooms
2 bathrooms
69 m2
311.000 €

2 bedrooms
2 bathrooms
71 m2
284.000 €

2 bedrooms
2 bathrooms
71 m2
296.000 €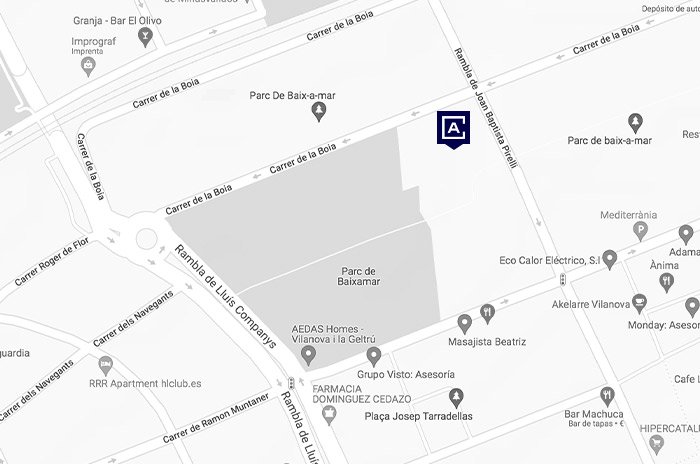 Your new home close to the sea
Fancy a dip? Panarea is very close to the beach and the marina.
Do you prefer to go shopping or walk downtown? A variety of commercial and leisure options appear 10 minutes walk from your new home so you can enjoy your favorite activities at any time.
The neighborhood where Panarea is located has all the services you need in your day to day. Supermarkets, schools, institutes, sports centers or shopping centers will be just a few meters from your new home.
If you need to go to the adjoining municipalities or Barcelona, in the vicinity of the promotion you have intercity bus stops, commuter train lines or fast tracks such as the C-31, C-246a, C-32 and C-15.
TRANSPORT
TRANSPORT
Bus lines
L1, L2, line Sitges-Vilanova/Fondo Somella
Commuter train lines
R2, R2S, R.Exprés
Roads
C-31, C-246a, C-32, C-15